Today was a half day holiday for schoolchildren and most businesses, as the country celebrates Fasching or Karnival. This is the festival the day before Lent starts, an interesting crash between pagan and Christian mythologies, where people can get their drinking, eating and partying in before the 40-day deprivation begins. The other main focus of Fasching is driving away winter. Some wear scary masks or bear costumes to represent winter, while others play instruments, wear bells and noisemakers, or have mirrors on their heads to scare winter away. Kids get dressed up in costumes similar to those seen in NA for Halloween, with princesses, pirates and clowns being the obvious favourites.
We went over to Aunt Susi's and Lili's last night and borrowed a very cute ballerina costume. Mostly I really don't like organizing costumes, either for myself or for others; but the upside today was that Annie was so excited to put on the costume that she was easily dressed, including letting me put up her hair. Annie has been so difficult to get dressed the last few weeks, that when Markus returned from Canada last time I told him that it was his responsibility to see to that duty in the morning for, like, the next 10 years.
Here are the sweet pictures of the little ballerina.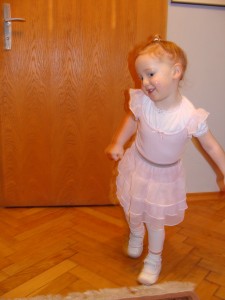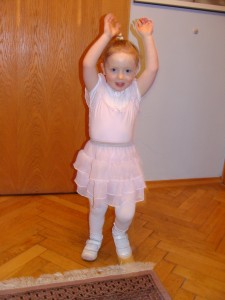 Students Rebecca's age don't really get dressed up anymore, but she and I went to watch the parade for an hour or so while Markus worked in the Cafe. Unfortunately the weather wasn't very good, lots of snow, very slushy and chilly, but that didn't seem to stop the crowds. The legal open alcohol for anyone over 16 certainly helps with the festive atmosphere, I'd say. There was a real range of traditional and modern floats and bands. There were scary masks, children riding unicycles, and beautiful costumes. I think my favourite had to be the Austrian drag queens, but I've always had a soft spot for that sort of thing.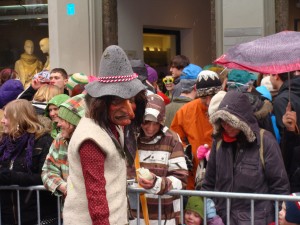 I grabbed my regular camera instead of the video camera, so unfortunately the quality of the following could be better and I can't edit it to make it shorter (only 1 minutes, but still.) But it does give you a sense of one of the main themes of the festivities, driving winter away and ushering in spring.

Fasching Umzug from Hillary Samson on Vimeo.