The last week and a bit has been really, well, nice. Not thrilling or exciting or eventful. (Actually, I'm kind of done with eventful for a while), but just lovely.
My birthday on the 20th was so sweet. Annie and Markus brought me coffee and presents in bed, singing me a rousing chorus of the Happy Birthday. I had a relaxing day at home, mostly crafting birthday and Mother's Day cards. After Kindergarten I brought home a friend for Annie to play with. I actually made the play date last week, totally forgetting it was my birthday…clearly this is not a big event in my life anymore. But these days it is usually easier with 2 than 1, so it all worked out.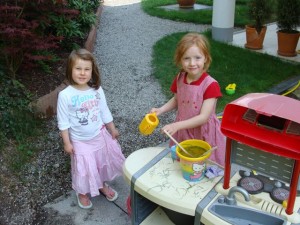 We then dropped Annie off for an overnight with Chloe (Margriet's present to me) and Markus and I went out for one of the best dinner's I've had in Innsbruck.
The restaurant is called Chez Nico, and the owner is a French chef living in Innsbruck with his Austrian wife. There are only 12 seats in the whole restaurant. About a year ago he changed his menu to be vegetarian. I'm usually up for a good vegetarian meal anyway, but this was seriously fantastic. I even got a bit drunk on the wine course pairings, which doesn't happen often these days. A great meal, time with Markus and Annie, and many phone calls, cards, emails and Facebook posts from friends and family made it a special day.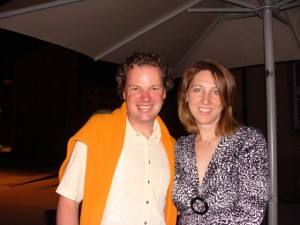 On Saturday I took Annie up to a family meet-up with the Innsbruck expat group. I'm starting to really enjoy their company. Such interesting stories about how people ended up here! The Easter bunny showed up and there was a big egg hunt. They actually hide colored boiled eggs here, but Annie just finds them and then passes them along to someone else; she sticks to the chocolate and gummy bears as keepers. It was beautiful weather and a great way to start the Easter weekend.
Sunday was our Easter egg hunt, of course.
After the chocolate-eating fest we went for a long bike ride. Markus kept me to flat ground, which my knees and lungs appreciated. We sat on a restaurant patio and had a light lunch while Annie played in the playground.
Markus had to pop into the cafe on Monday for something, so brought home the chocolate egg a friend brought from Italy. Apparently, so Markus claims, this is standard fare for Italian kids.

Ridiculous! Thank goodness it wasn't filled with anything. At least the chocolate is decent so we are all pitching in to finish it off before…I don't know…next Easter?
Besides that we have been enjoying our yard and the sunny warm weather this last week.
Markus is crazy busy in May with a bunch of catering (thank goodness) and hopefully a hopping cafe (at least on sunny days), so this was very nice that we got to spend some longer periods of time together…eating lots and lots of chocolate.