Every year, just after Christmas, is a ski jumping competition in Innsbruck, part of the Four Hills Tournament that takes place in Germany and Austria. Markus was sorry we missed it last year (all 20,000 tickets were sold out by the time we investigated), so we made sure to get tickets early this year.
The event is at the Bergisel Schanze, just outside of Innsbruck's city center. So our gang jumped on a street car and joined the hoards hiking up to the viewing area.
The large bowl where the ski jumpers land, and where the crowds view the event, means that there really isn't a bad spot in the house.
The view from Bergisel is, well,…
stunning. It was a perfect clear day, ideal for viewing.
We were all dressed up in our winter warmest, and Nicole brought a big pitcher of glühwein and lots of sandwiches.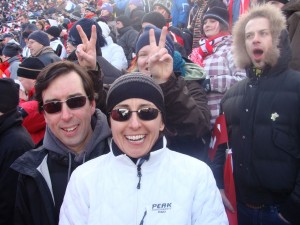 Whenever an Austrian was about to jump, the crowd went crazy with cheers and horns and cow bells and flag waving.
It was excellent viewing, but the pictures of the jumpers turned out to be a bit of Where's Waldo?.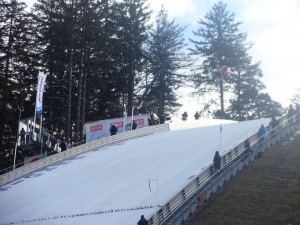 And to top it all off, a Tirolean, Gregor Schlierenzauer, won.
He is a 19-year-old phenomenon, who has won several races during the season and is one of the favourites for the Vancouver Olympics.
I thought I would enjoy the day, but instead I completely loved it! It was so much fun. And Annie managed to make it through 4 hours outside and still keep her smile. She was a superstar. We are talking about trying to make all four races next January and becoming official ski jumping groupies. And to think I used to hate winter.