One set of grandparents, Nana (my mom) and Grandpa Drew (my stepfather) are visiting from Canada. Well, Drew has already returned home but Mom is staying for a few more days.
Last weekend we tackled the requisite visitor activity, a hike up a mountain. As my mom has had two hip replacements and has a stent in her heart, this needed to be planned carefully. Markus scouted out an easy-ish trek and off we (Drew, Mom, Markus, Annie and I) went. I became much more worried once we got a bit higher and realized that there was snow and ice on the ground. Mom didn't have hiking boots on, so it was quite slippery. With the help of a few strong arms, my hiking poles and a midway rest (a hide-and-go-seek break for Annie and Drew) we made it up.
As a reward, we came to a restaurant with a particularly lovely view as well as a 5 euro schnitzel special. Delicious.
After our hike we headed straight for a Christmas celebration in Rattenberg, a small medieval village about 45 minutes outside of Innsbruck. The city has put up hundreds of candles in all of the windows and set up a stage for performers. There were Christmas stalls and every store was open and decorated for the season. The town is known for its glass blowing, and many stores had beautiful hand-blown ornaments, glassware and vases. Mom bought some Christmas tree angels and a pretty blown-glass flower.
After some glüwein and wurst, we moved to the main stage area. There were children's choirs and musicians and choral singers. A rope was strung across the square, and for a finale a woman was lifted up on a swing. Swinging above the crowd she proceeded to sing a beautiful Ave Maria that completely enchanted Annie. Very pretty.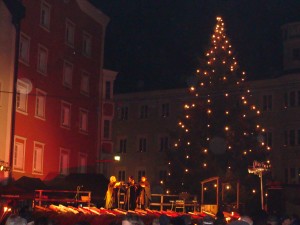 As I keep saying, there is just nothing wrong with Christmas time in Austria. It is the best time for a visit without a doubt. Absolutely beautiful.