Markus 'agreed' to watch Annie on Saturday (I feel I am owed a few since he was gone for 4 weeks) while Ryan, Renata and I took the train to Salzburg for the day. It is a very comfortable 2-hour trip that took us close to the center of town. It was a cold day but we had dressed appropriately and, after finding a city map, made our way into the Alt Stadt. (Thank goodness for Ryan, because Renata and I have the same disability; not only do we have a terrible sense of direction, but we are quite pushy and adamant that we are correct.)
The city is interesting, but we all agreed Innsbruck is a prettier city (I guess being a smaller city helps.) It was also quite overcast, so that may have affected our opinion.
We walked around the large old town, watching the efficient city workers tear down the last of the Christmas markets. I'm sad to see them go, and the Glüwine with it. We also stopped into 3 churches, one that was quite ordinary, one was small but very elaborate, and the other one was the Domplatz, which was the stunning catherdral in the heart of the city. Here is a shot of the interior and one of the upper dome: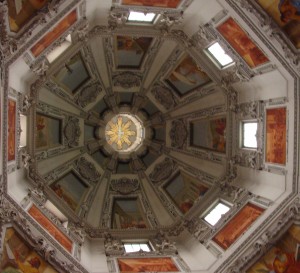 We then poked our heads into a few restaurants for lunch, but decided on an Italian place, which was a great little find (I had tagliatelle with shrimp and veggies in a saffron cream sauce. Yum!)
Our main adventure was going up to Schloß Monschsberg (Hohensalzburg Fortress). It is a medieval castle, which started being built over 1000 years ago. I really enjoy touring medieval castles, and am fascinated by the history of each place. The castle is located at one of the highest points of the city to maximize the security. We took the funicular up from the city center, but probably could have walked it. Here is a shot of the castle from Salzburg city center:
The fortress was reinforced many times over the centuries, and was never captured. It only reverted from the ruling Archbishop's control when it was peacefully handed over to Napoleon.
As we walked around, I was especially impressed with the doors. Very intricate. I was less interested in the several rooms with WWI memorabilia, but I'm sure that was well done also for those interested in that. Here is a shot of one of the more intricate doors as well as one of the exterior archways: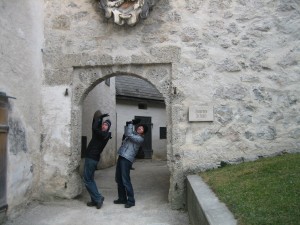 We walked around the exterior and interior for a while, and then took a 30 minute audio tour which included the torture chamber, artifact room and tower. The views of the city were stunning, and definitely the highlight of the trip. I wish it had been a bit sunnier…and a bit warmer!…but it was still an amazing view.
We managed to catch the 4:30 train home so we could have dinner with Markus and Annie. A great day all around! Here are just some of the many, many pictures Renata, Ryan and I took of the view: