Ah, the incredible decadence of the hospitality elite who cater to the ridiculously wealthy. What a ride these 4 days are going to be.
We decided to take the train from Innsbruck, which is usually a great way to go. However, we were stopped for about 3 hours and so the trip was rather long. (This is very unusual for the train system here.) I actually didn't mind much, as the views are beautiful and I was able to do some studying for German class.
Our room is lovely and spacious. Glad we aren't paying for this ourselves, as rack rate is $500 Euros a night, and it isn't even a suite! The bed is glorious and of course the bathroom is divine. I know the whole thing is completely ridiculous, and a small nation in need could be fed for a year on what this conference spends, but there is also a nasty, evil part of me that just soaks up the luxury. I must have been fabulously wealthy in a past life.
Luckily we arrived in time for the first event, a cocktail party at the Palais Coburg. What an incredible building! It is owned by someone who really has too much money, so they decided to put 100 million Euros into renovating the 60 room hotel. (I'm thinking the payback period is about a century.) Here is a bit of history:
The Palais Coburg was built in the period 1840-45 by Duke Ferdinand of Saxe-Coburg & Gotha (1785-1851) on the Braunbastei ['Brown Bastion'] – a part of the city defences dating back to the 16 th century. It is thanks to this "super-construction" that a large part of the Renaissance fortification, in particular the casemates, have been preserved for us today.
The building is a spectacular  mix of modern and ancient, including a section of the old city wall from the 16th Century being incorporated into the design. There are huge arching brick walls and ceilings, opulent rooms that look like the parts of museums that you aren't allowed to go into, and the most amazing wine cellar eve
The food of course was incredible. There were stations for all kinds of delicacies, and then a dessert bar and huge cheese spread. Too fun. The servers were decked out in lederhosen and dirndls to add to the festivities.
I didn't want to trot around with a camera at the event, so here are some pictures of the building from the website: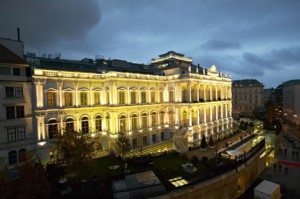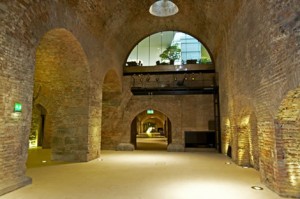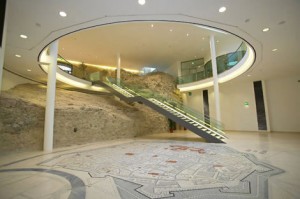 Well, I'm off to a museum to see what I think is a Van Gogh exhibit. More tomorrow.