Since I'm going to have a quiet day off at home tomorrow, Markus thought it would be nice to go for a drive this afternoon after I finished my class. We drove about 20 minutes to Hall, a little town about 10km east of Innsbruck.
After a tasty lunch at a restaurant called Geisterburg (with a great wood-fired pizza oven), we walked for a bit around the old town. It is such a pretty little place. There are about 12,000 people living in Hall, and it has a lovely small-town atmosphere.
Hall's claims to fame includes a silver mine on the outskirts of town and a mint in the city, as well as a salt mine. The Austria silver coin, der thaler, was minted in Hall for centuries. This is where the English word 'dollar' comes from. Hall is about 800 years old, similar to Innsbruck. The old town has very pretty, narrow streets lined with storefronts that are centuries old, just like we North Americans think of when we imagine a European town.
I didn't have my camera with me, but here is an image of how Hall will look in about 4 weeks after a couple of hearty snows: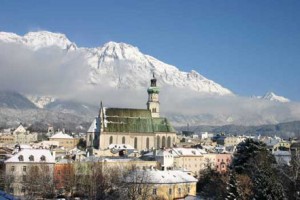 This life where neither of us are working regular hours is pretty special. I know it won't last forever, but I am certainly feeling grateful for the time these days spent with Markus enjoying the beautiful area around Innsbruck.
Cute Girl Update
Annie's German is just incredible. I am constantly asking Markus what she is saying, and it is really helping me pick up on everyday words. Annie's caregiver, Gabby, plays the guitar and teaches the kids songs. There are a couple where Annie knows all the words and hand actions, and she is teaching them to me. I'm especially a proud Mama when she inserts her own words to the tunes that she learns to go with whatever situation is at hand. (Clapping, eating, misbehaving, etc.)
I'm also pretty thrilled that Annie likes crafts. We sat on the floor a good while this evening cutting, gluing and tearing paper. With these sticky gluedots I have I was even able to make her some snowflake stickers (for her hand, of course, because that is where stickers go these days.)
And Dad is pretty tickled that Annie is into block building. I'm not sure if she'll ever be as Lego-obsessed as cousin Devon, but she sure likes building towers, as this picture shows: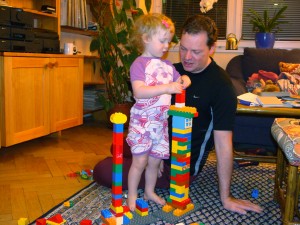 I just feel so in love with that little girl right now. Since we had such a hard time together a few weeks back, this makes me feel incredibly happy.