It was a good day today. Markus woke up with Annie, which is always a delicious way to start the day…for me at least. (Geneva could confirm the time by that girl's internal clock!)
And it was the start of the second 4-week course at school. (Hard to believe I have only been in Innsbruck for 7 weeks. Feels like much longer.) We had treats on Friday to celebrate the end of the first session and had some German-learnin' fun playing games. Here is a picture of the class in action and one of the group. Not everyone finished up the course for one reason or another so the class is a bit small in the pics.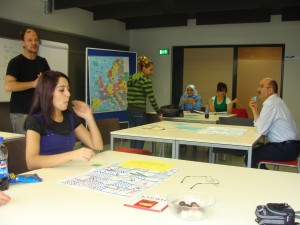 This morning two new students joined us, one woman also from Turkey (that makes 8,) and one woman from France. I find it so fascinating to learn what compels someone to move to another country where they don't speak the language. Stories of work and love and hardship. Old family businesses, upcoming marriages and new babies. This is an adventure-spirited bunch for sure. Our teacher, Bernhard (hi Bernhard!), does a wonderful job of using our stories and experiences to make the learning applicable. Because really, connecting with people is the most important thing for most, if not all, of us right now in this new home.
And I am feeling that I am making some progress. Ana (from Serbia/Russia) and Amal (Egypt) and I finished our exercies and so were chatting in German. I learned a sad story about Amal losing her husband to a heart attack 11 years ago when her youngest of three children was only 3 months old. She made light of it in the end…kein Mann ist gut! and we laughed. It felt lovely to connect with someone about something real while speaking German. Markus commented that sometimes I will feel like I am moving ahead and other times feel like I know nothing. That sounds about right. I'll just appreciate this 'moving ahead' day and enjoy.