I've discovered a new craft. Actually, it is just an extension of paper crafting which I have been doing for a while. Ready for it….adult colouring!
It all begins with a Digital Stamp, which is really just a digital image (clip art?) that someone has designed. You can get them for free or buy them for a few dollars. They are jpeg or png files, so after downloading you can put them in Word or Photoshop to manipulate and then print them.
Then the colouring begins! Digital stamps can be coloured digitally of course, but the fun for me is colouring with pencil crayons, markers, paints, ink, chalk, or even crayons! Cut them out, attach them to a card, and good to go.
I'm still new at this, so the best I've come up with is very basic and monotone. Here is an example: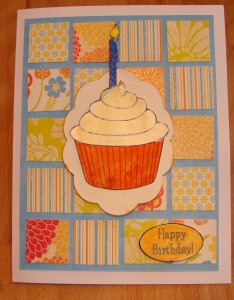 (I can't find the maker of this image at the moment, but will fill it in when I can. Crediting artists is very important.)
However, when you become really good (or are just naturally talented), the colouring can have shading and multiple hues and look like this: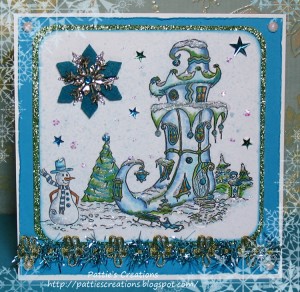 (See Pattie's blog for image credits.)
Of course you can spend absolutely oodles of money on this, especially on the special Copic markers that were originally designed for Manga comics. But I'm making due what I can find amongst children's crafts supplies and am still really enjoying it. I actually don't remember enjoying colouring all that much as a kid, so maybe that's why I'm so excited about it now.
A couple of months ago I joined a network for digital stamp enthusiast called Crafter's Digital Art Center. After a call for business-minded crafters, I'm now on their board of advisers for the next few months. It is fun and keeps my brain busy. I feel like I'm on the other side of the AbeBooks Advisory Group all over again. Hilarious! But our group is a lot less cranky.
The other great thing is that this is something Annie and I do together. We look through all my saved images and I print them full size for her to colour, while I do a smaller version for me to make cards with. Excellent bonding time for sure.
And I was shocked how big the "industry" is. Even the small number of sites that I'm aware of have over 100,000 members combined. Now I'm sure there is lots of duplication there, but still. At first I was surprised that people devote so much effort to this, but I guess in terms of your entertainment time, it is a great deal better for the mind and spirit than watching another reality TV show. And now that I'm addicted, it feels totally normal.
I've even done a tiny bit of colouring on my Christmas cards (as with every year, I use the term "Christmas" loosely in terms of when you will see them in you mailbox), but since there are so many I didn't go crazy.
I wonder what is next. Rediscovering rug hooking? Let's hope not.