Annie and Markus went for what I'm pretty sure is the last ski of the season on Sunday. (With our string of 20+ degree days, I'm done with skiing so enjoyed a blissful day at home alone.) This prompted me to record one of our interesting adventures this winter, which got lost in the dearth of posts the last few months. (Can something get lost in a dearth?) Anyhoo…
One Sunday we drove out to Zugspitze, the highest mountain in Germany. (Not, Markus was quick to point out, even close to the highest point in Austria.) Our season ski passes let us go on the cable car for free, but we had to pay for skiing. I chose to sit it out and spend a few hours enjoying the view.
It really is a long way up.
We started here.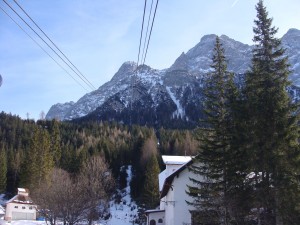 And then went up…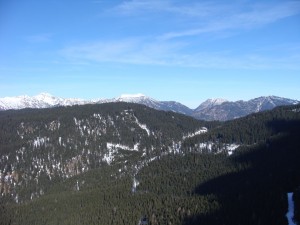 …and up…
…and up…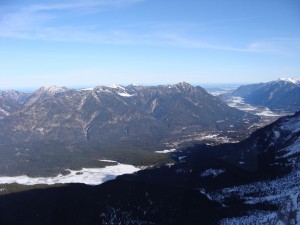 …and up…
…and up.
At the top are several restaurants, shops, a small museum focused on the history of mountain climbing and lots and lots of massive picture windows and viewing platforms.
Annie and Markus bought their ski passes and went on there way.
The reason that our ski passes didn't work is that the cable car is in Austria but the ski region is in Germany; the boarder runs right through the mountain peak. So if you go out one of the doors you leave Austria…
…and enter Germany.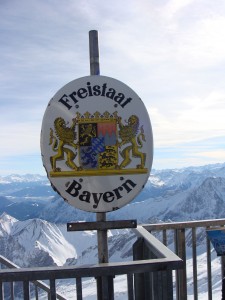 Even after almost three years here I still think the proximity of all these countries to each other is so cool.
Just into Germany there is an old restaurant (closed when we were there.) Here is the door: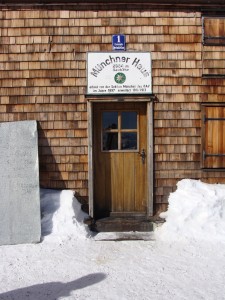 Wait a minute; what does that sign say?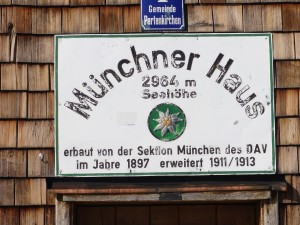 That's right. Built in 1897. 3000 meters up a mountain. Maybe it doesn't compare to the pyramids, but I'm still mighty impressed.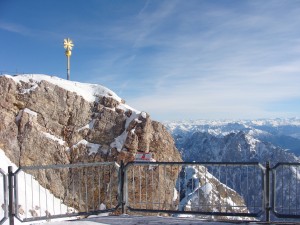 This 14 foot high, gilded iron cross was erected on the mountain's summit in 1851, hauled up there on foot as the first cable car wasn't built until 1926.
I'm not sure what drives people to explore, discover and build in the most unlikely of places. But I'm glad they do, as I had an awesome day.