(I know, I know….but I couldn't resist the title.) When I returned from the summer in Canada, Markus reminded me that 2 years ago we had given his father a GC for a travel agent to encourage him to visit us in Canada. He never came, and the certificate was set to expire in October. Markus parents didn't feel like taking a holiday (or were just being kind and let us have it), so Markus and I were forced to come up with some travel plans. Poor us.
We decided that it would be better to drive somewhere, and spend the GC on a hotel instead of airplane fares. (And frankly, I was none too keen to get back on a plane after my busy traveling summer.) Through the magic of the Internet and a helpful travel agent, Markus found the Tuscan Isola D'Elba, best known as the island where Napoleon was exiled.
Last Friday the three of us piled into the minivan and headed south (and a bit west.) I love the Italian countryside. You drive out of the mountains and then it is all rolling hills and centuries-old farmhouses.
After a six-hour drive we ended up at the port city of Piobino. The hour-long ferry ride went by quickly, especially as they have a skookum play area for children.
As we approached Elba it became clear that this small island (150km of coastline) is very hilly and has some serious history. A large tiered wall, clearly several hundred years old, surrounding one of the first towns we saw. Beautiful and Mama Mia-style Mediterranean buildings line the shore.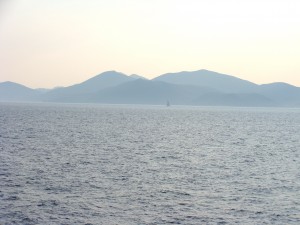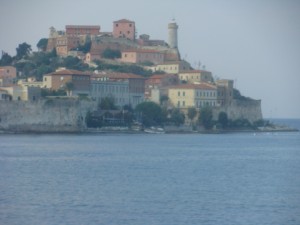 My first glimpse of the port town after we got off the ferry made me start wondering what our accommodation would be like, as it was a bit derelict looking. However, after a day or two on the island, I came to realize that approximately 90% of the buildings were in need of a good paint, and that people obviously abandoned their junk  (old cars, playground equipment, etc.) haphazardly. It was just something to be overlooked, as it in no way affected the quality of anything. Or even much impeded the view, as everywhere you look you can see beauty: the expansive ocean surrounded by craggy rocks and hillside villages; tall palm trees and those crazy cacti with the flat leaves like ping-pong paddles; vines heavy with wine grapes. Magic.
The resort where we are staying is past their high-season, so they upgraded us to a junior suite with a separate area for Annie to sleep. Very nice. And unsurprisingly…since we are in Italy, and since I have met Markus and know he wouldn't choose anything different…the food here is fantastic. We are on a package called half-board, which means that we have breakfast and dinner at the hotel everyday. The breakfast is a well-equipped spread, including at least one dessert. For breakfast.
Dinner is a daily-changing, four-course affair, with three or four choices for each course: appetizer, pasta course (or risotto), main course and dessert. Fresh seafood, well-cooked meat, nicely blended flavours, and the pasta. The pasta! Fresh-made with delicate pesto, fresh prawns, creamy cheeses. Why can't N.A.ers do pizza or pasta correctly? It is one of life's great mysteries. Although I guess just as well, or it wouldn't seem so special when you do get a chance to travel. (I can now believe that Elizabeth Gilbert gained 25 pounds during her three-month stint in the Italian "Eat" part of "Eat, Pray, Love.")
And I am enjoying the local Elba wine as well. Amusingly, one night I decided not to drink, and the server asked several times, quite confused, "You don't want any wine with dinner? No wine?" Clearly, this is an anomaly in Italy.
So far the days have been all about swimming and lounging, since the 30°C weather precludes much else. Two days on the beach and one at the pool hotel. The beach we have gone to both days (there are many to choose from) is great. Our hotel has a sister beach-side hotel, so we get a discount on the lounge chairs and parking. There are a few children still around, but mostly Annie has been playing and swimming with us. Just so much fun to have a relaxing family holiday.
Although a bit cautious at first, by the first afternoon Annie was swimming like a fish in the ocean. Hours are spent in the water, which is perfect for kids as the sandy incline goes out for ages. As you can see, Markus' parents decked Annie out in a very Italian-appropriate bikini. I usually go for the full SPF body armour but, as they say, "when in Rome"…or 400 kilometers from Rome as is the current situation.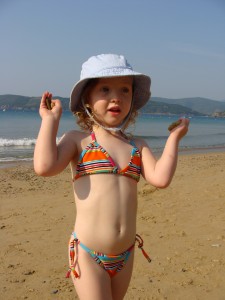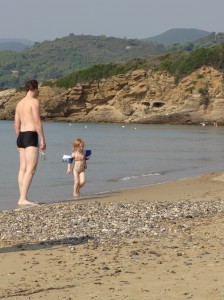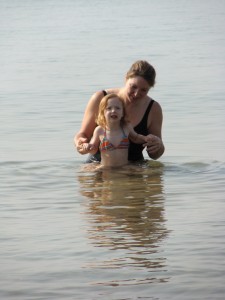 The hotel pool is freezing, much colder than the ocean. But once we heated up in the sun, it felt nice.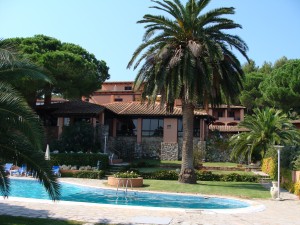 There is a large grassy area, comfy lounge chairs, and an exceptionally friendly staff. I'm learning a few Italian words, but get by quite well using mostly my German, as there are far more German tourists here (Austrian, German and an unexpectedly large contingent from Switzerland) than English-speaking visitors.
Our vacation is only five days plus the two travel days, but we are already happy and relaxed. We will hopefully make it to Napoleon's residence for a look back in time, but otherwise more of the same in on the agenda for the last two days. An unexpected welcome surprise to round out our summer.
Ciao!