Last weekend we attended a large street festival in Kufstein, a smaller town about 45 minutes away from Innsbruck. My friend, Nicole, lives there and invited us down, good-naturedly spending the day with a hyper toddler. It was raining on and off (and sometimes 'on' in squalls), but there was so much to do and so much awesome Austrian junk food to eat (mmmm, fried cheese and beer) that we managed to stay out for five hours.
This was the first time I have visited Kufstein, whose city center is guarded over by a 12th Century castle.
I never quite figured out what the celebration was for, but the city had done a great job of dedicating the city to the festivities.
There was a very large kids play area, with toys, 2 playgrounds, tractor rides (Annie only lasted 30 seconds on that…tears ensued when a little boy smashed into her tractor), drawing easels, a small train that toured around the festival, and face painting. We hit the face painting first, as there wasn't yet a line-up. Annie told us she wanted to be a lion. That kid already has very well-formed opinions. (See my tweet from this morning.)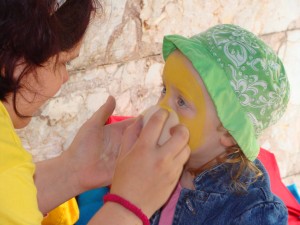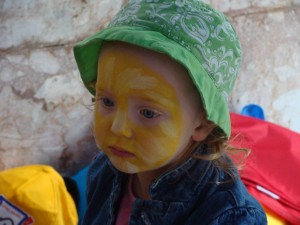 As Annie gets bigger, my hardest dilemma is how much to protect her. She is so independent and so never  wants to hold my hand or walk by my side. In big crowds it tends to freak me out, but I know it is important for her development. She had a blast, as a budding ham does, running ahead and then waving back at us with a little wiggle and dance.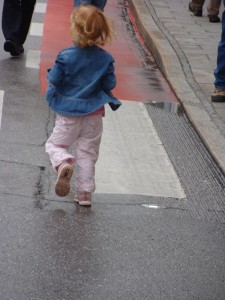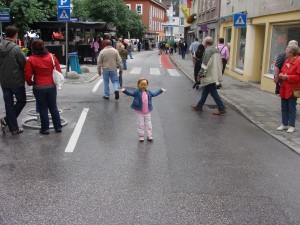 There isn't much else to tell, as I spent pretty much every minute I wasn't watching Annie play eating and drinking. I'm starting to feel like a real Austrian! Annie fell asleep on the ride home and was out for the night, which was great as I conked out early too. Apparently there are festivals in one area or another pretty much every weekend of the summer. My arteries are clogging just thinking about it. Tomorrow…hiking.