Wednesday and Thursday centered around what were my two main desires for our Paris trip, visiting the Musée D'Orsay and the Louvre.
Wednesday I made Markus get up early and head out so that we wouldn't have to wait too long in line for the D'Orsay. Well, I mixed up the operating hours, so we were there an hour before the doors opened and no one was in sight. But that gave us an opportunity to finish our croissants and drink € 4 coffees in an overpriced (as they all are in the touristy centre of Paris) café.
Once inside, I was stunned by the beauty of the building. Formerly a train station built in late 1800's, the space was remodeled in the 1980's (thank goodness it missed the '70's!) Markus and I love the Impressionists (not very original, I know, but there is no accounting for taste), so we spent 3 hours getting our fill of Monet, Manet, and Degas. I have this incredible sense of well-being, calm, and inspiration when I am looking at art work that moves me. (Now I just need to figure out how to bottle that for injection during the rest of my life.) It was a perfect morning.
Here is a shot of the gorgeous interior, plus a couple of my favourite paintings (sorry about the quality…a photography class is next!).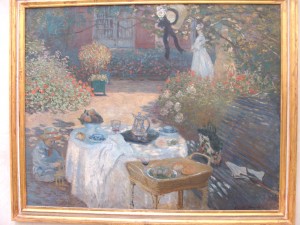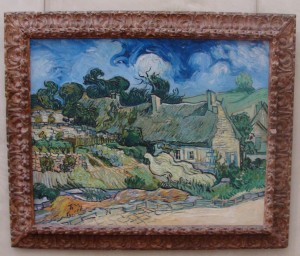 In the afternoon Markus took a break, as he was battling a cold, and I headed for the shops. I only bought one top, but enjoyed browsing. All I have to say is "What financial crisis?!!" Everywhere was packed with people buying clothes and gifts and toys for their children. I guess that is why I continue to have faith that our little inner city hotel could do well; it has to get really, really, really bad before people give up their vacation plans entirely.
Thursday we headed out early again for the Louvre. There was a line but it snaked in very quickly. (I was actually amazing that, although people poured steadily in all day, the museum is so massive that we would still find ourselves in rooms all alone.) We had a bumpy start since I was getting a bit obstinate about wanting to be in a certain area of the museum, and were having trouble finding it. But eventually we got there, I relaxed, and Markus forgave me.
As everyone who has ever been to the Louvre told me, the place is so incredibly huge there is no chance of seeing everything…even if you had a month. So in the end we wandered a bit, got lost a bit, and saw all kinds of works from various periods.
One of the amazing areas was the artifacts from Ancient Egypt (and a bit from ancient Iran). The tombs, jewellery and stones covered with hieroglyphs made me just want to stand and stare for hours. As for paintings, Rembrandt was a favourite, so we spent a good amount of time viewing his works. We also toured Napoleon's apartments, which of course were ridiculously, deliciously opulent. Always fun to imagine myself living that life. Perhaps I'd just be bored. Or not.
Overall the D'Orsay was the more complete experience for me, but I would/will go back to the Louvre without a doubt should I ever find myself back in Paris.
(I didn't take any pictures of the artworks or artifacts, but here is the official site if you just have to see more.)
After the Louvre we had fresh sandwiches in a gorgeous park and then in the afternoon walked down the Avenue des Champs-Élysées. What a madhouse. (Again, what financial crisis??) So many beautiful people going in and out of beautiful shops. What an eyeful. Of course we just window shopped, but we did treat ourselves to a couple of € 10 small drafts (ridiculous, but must be done) and people watched. Markus noted that it was easy to discern the tourists in their comfortable shoes from the Parisians who wouldn't be caught dead without heels. Like all big cities, it would be more fun to live in Paris if you have loads of disposable cash.
I wish I could tell you that our 4 days ended with a bang and big party, but both of us were a bit beat from all the walking and had brain overload from all the amazing sites. So we hopped on the metro, took a stroll through another part of town, ate oh-my-goodness awesome crepes at a street side cafe, and went to an English-language movie. (A real treat for me, as they don't often play undubbed movies in Innsbruck.)
The weather had been perfect all week despite predictions of rain, so we weren't too surprised when the skies opened up just as we hopped in the car to make our way back to Innsbruck. We picked a very tired Rebecca up at the Munich airport (she was returning from 2 weeks in Canada for spring break) and had a quiet drive home.
I truly couldn't have designed a better way to usher in (hopefully at least) the next 40 years of my life. I am blessed.