Our last couple of days were more of the same as the first three…in other words, wonderful.
I think this holiday was so great because it was unexpected. Before Annie and I left for Canada we talked about going somewhere together as a family in September, but hasn't defined our plans. And we didn't book the hotel until about a week before we left, so I really hadn't had time to form expectations or focus on an itinerary. It all just unfolded as a series of lovely events and surprises.
My favourite part of the trip was enjoying being with Annie and Markus so much. It is just so different being together as a family without having to rush around visiting relatives and friends (not that I don't love and miss you all!) I think it was a good lesson in that we will have to balance our vacation time between connecting with all of the other people we love in the world, and connecting just with our little family. Even though we do spend a lot of time together every day, being on vacation isn't the same as sitting around the dinner table with all of the daily life stresses hovering in the air.
Here are a few more highlights: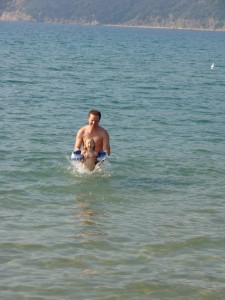 One of the greatest times on this trip actually was on the drive home. I am so lucky to be experiencing Europe with someone who grew up here, because Markus has all kinds of ideas of how to enhance our travels.  He suggested that we take a bit of a longer drive home so we could detour to the town of San Gimignano, Tuscany. I fell in love. Markus suggested it would be a great place to get married, and I actually contemplated that for a few hours, temporarily abandoning my commitment to an NA ceremony so my friends and family could attend. I loved it that much.
It was raining when we arrived, so we decided to have lunch first and explore later. We found a place with a covered terrace (it wasn't cold, even in the rain) and had an amazing meal. I started with garlicky bruschetta and then had broad noodles in a light saffron cream sauce with roasted yellow peppers.  Markus started with a salad of walnut, olives and lettuce topped with chucks of flavourful Parmesan, and then had spinach ravioli stuffed with artichokes and truffles. To. Die. For. Annie had…wait for it…plain pasta sprinkled with Parmesan. Shocker.
Here is the terrace with a couple shots of Annie standing in the garden beside the seating:
*Note: I in no way influenced this pose. Pure Annie show(wo)manship.
I'm swiping this shot of the centuries old San Gimignano town center, as mine didn't turn out:
I wish I could truly capture the beauty of the Tuscan countryside, but neither my camera nor my photography skill seem to be up to it. Here are a few shots I took to at least give you an idea: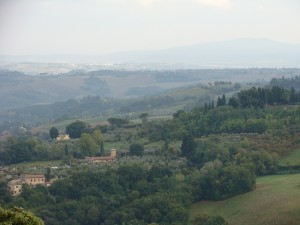 Italy, oh how I will miss thee. We will, without a doubt, be back.