I can't believe we have been in Canada for almost a month already. It has gone by so fast. The trip has been, in a word, fantastic!
B.C. was a busy time of visiting friends and family, as expected, but we did enjoy it all. Annie and I had an amazing time in Victoria with Stacey, who is pregnant with twins. She has been following doctors recommendations to take things easy and rest most of the day, so I think she was as glad to have us around as I was thrilled to be spending time with her.  And I understand her husband, Andrew, also appreciated that Stacey had another adult to talk to.
And after two years, Annie and I were able to spend some time with Rebecca. She graduated from highschool and is very much looking forward to university at SFU next year.
Time in Vancouver was spent with family, as I hadn't seen my brother, sister-in-law or their three children in over 2 years! Crazy. Annie was in absolute heaven, and my nephew and nieces were wonderful to her, not to mention very patient with her exuberance.
And I got to actually go to work for 2 days!! Those of you who daily go into an office for a living might question my sanity, but I was as excited as a schoolgirl to be meeting with live humans and exchanging ideas about interesting things.
The first week in Manitoba was a whirl of spending time with family and preparation for my Dad's 80th birthday. At the last minute I, with the help of the family, put together a slide show of some photos. This is the first time I've tried to do this and I'm pretty pleased with the results. I could have smoothed out the music transitions more and certainly cut about 5 minutes from the grandkid section (hey, I love looking at pictures of my daughter, nieces and nephews…why wouldn't you?), but overall a good first effort. I uploaded it to YouTube if you want to check it out. For now it is here, but could get pulled any time for unlicensed use of music, so act fast if you want to view. Sylvia and I went through great-aunt Edith's photos and found some real treasures. My dad's younger brother, Ross, died when he was in his 30's, so there were a few tears in the audience remembering him and their time together.
Beyond that it has been a fantastic time of visiting with friends and family at the cottage, oodles of hours swimming and boating on the lake, and reconnecting with my good friends in Winnipeg.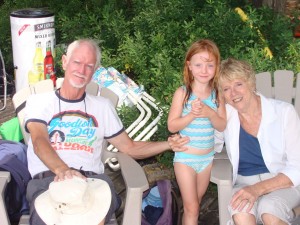 In Winnipeg Lori, her daughter, Matheson, and Annie and I had a delightful morning at the new Children's Garden in Assiniboine Park. Three hours just flew by for all of us.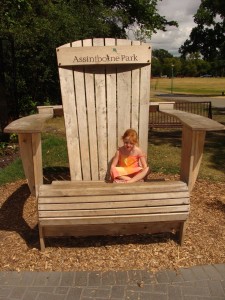 And now I'm off to jump in the lake! Hope you are enjoying your summer as much as Annie and I are.