So here is how Christmas played out in our part of the world…
Traditionally Christmas is celebrated here on the evening of the 24. Family gathers, eats usually a fairly simple meal, and then the Christmas Child (I haven't quite got the whole story yet on who that is. Jesus? An angel?) comes and brings the children presents.
We decided to have the family dinner at the cafe, as it was easier for everyone. Markus closed at about 1:00 p.m. and then we went back a few hours later to set up and get ready.
Everyone arrived together: Markus father and step-mom, sister Suzi with her daughter Lili and two dogs, and Suzi's grandmother. Markus's dad made steak tartar, which amazingly I actually like (just have to pretend I'm not eating raw meat.) Markus also put out breads and spreads and Italian meats and everything was lovely.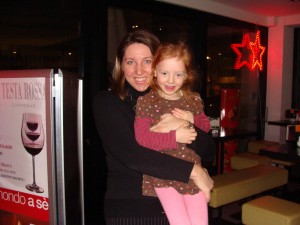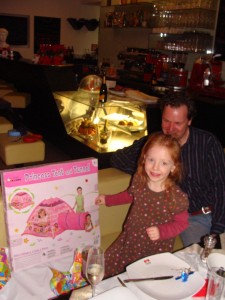 The Christmas Child brought Annie a Princess tent, a doll and beads. Perfect!
On Christmas morning Annie woke up to a present at the end of her bed that Santa left. A ballerina-pink sparkly dress was inside. That Santa sure knows Annie well!
Downstairs the wonder of gifts under the tree and stockings hung by the fire (really laying on the couch) brought hoped-for squeals of delight. I actually didn't take too many pictures, as we were just enjoying opening gifts and being together. Also, when I was a child, present opening lasted literally hours, so there was loads of opportunity for photos. Here, with one child and few adult gifts, it was all over in 20 minutes. I did snap these two lovely shots though.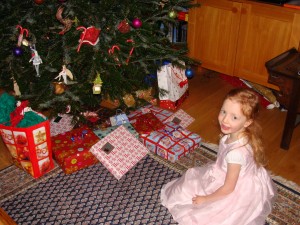 AND!! (I'm so excited) I turned on the video to catch Annie spinning in her dress. It is way too dark and grainy, BUT I unexpectedly captured that iconic childhood moment when Annie's little brain is trying to figure out why there is more than one Santa. She is saying that she saw Santa at the Christmas Market and he had a different face from the one that came to her kindergarten, Kindervilla. (Then she says the whole thing again for Papa in German, as he clearly doesn't speak English.)
Just check out her face as her brain tries to process the information when I say that maybe one is Santa's helper. Hilarious!
There are 2 Santa Clauses!! from Hillary Samson on Vimeo.
Happy New Year to you all.