The administrator of NaBloPoMo encourages "wordless weekends" to help ease the burden of posting daily. So in that vein (O.K. so not totally wordless) here is my post of artwork by Annie.
The first 2 shots are during an annual event called Long Night at the Museum, where about 50 local museums are open from 7:00 p.m. to about 2:00 a.m. Entry is free and there are lots of children's activities. Our favourite was outside the main Tiroler Landesmuseum Ferdinandeum, where they allowed children to paint large canvasses and then displayed them.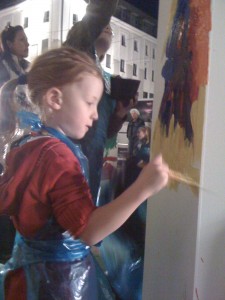 The rest of the images are Annie photographic originals, either taken with her toy camera or with my not-so-toy camera.
Enjoy