Archive for December, 2009
Friday, December 18th, 2009
As those following this blog know, I occasionally go through lapses in posting. Last fall when this was happening, I thought maybe I needed something concrete to motivate me. This thought came about the same time as I was trolling through not-so-recent photos (mostly of Annie) and realizing I'd love to share more of them. So put those two thoughts together, mix it with a little Sound of Music for inspiration, and there you have my new category.
I'll try to post once a week.  There may or may not be much of a story to go with the picture(s), but at least I'll get a post out of it, and you get to see some darn cute images.
So to begin, it was cold today. Not like Winnipeg cold, but still below -5. (I know, I know, but I've never claimed to be anything other than a weather wimp.) This had me looking for bright sunny photos, and thought that this from Annie's second birthday was lovely.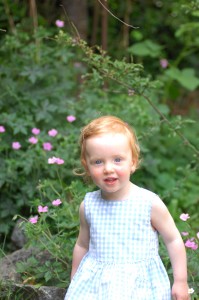 It was taken by Grandpa Ken, who is a professional photographer. He has always taken the most stunning pictures of Rebecca, and he seems to be holding true to form with Annie.
Here are a couple more closeups from, WOW!, almost a year and a half ago. (It seems both recent and so far away, as so much has happened since then. Time is the great trickster.) She still puts that dress on after school some days, and now it is a real fashion mini.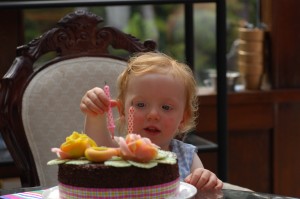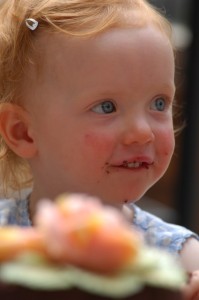 What I love is how her personality is so strong in these photos, and really hasn't changed that much since then; happy, mischievous, curious, independent. My girl.