Last week Markus and I kissed Annie and hugged my mom and Drew goodbye (with lots of instructions and several phone numbers), and headed out in the car for a relaxing (for me, the passenger), very scenic 9-hour drive to Paris. The weather was gorgeous, and the landscape of mountains, farms and rolling hills were soothing and stunning at the same time.
We pushed through with only a couple of coffee breaks until we got to France. We decided to stop for lunch in a town near the highway, as opposed to a road-side restaurant. It being Easter Monday, our first couple of attempts in little French villages were thwarted, as the towns were closed. Not just the shops and restaurants, but everything. Not a person in sight, not a dog on the streets. A bit weird, although we appreciated looking at the charming architecture.
We finally made our way to a bit bigger town, Saverne, where we had a very tasty lunch. We walked around for a bit, and then found a spot with outdoor seating and the look of authentic cuisine. After a little coaching from Markus, I ordered what is apparently a local specialty, Tarte Flambe. I was expecting a tart or quiche-like meal, but instead was served a thin flat bread with three different toppings. The gorgonzola was unbelievable, but it was incredibly rich so I'm glad that there were other tastes as well. The bottom is slightly charred, which usually I wouldn't like, but the flavours worked well together. With a glass of white wine and the warm sun on my back, it was a delicious way to start the trip. (Only a week later, I'm starting to crave Tarte Flambe and am wondering when I might be able to find this again.)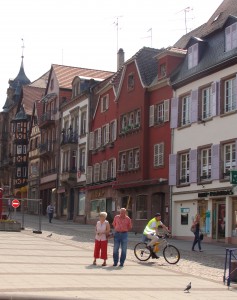 With surprising little trouble (given that I am useless at navigating, as my car sickness means I can't look at a map for more than 2 seconds while the car is moving…not to mention my hopeless sense of direction,) we found our hotel.
I'll mention here that this Parisian adventure was made possible by Markus' and my family. (That is one for the 'Can't do this in Canada' category: travel to Paris on birthday cash.) Markus' parents joined a vacation club about 30 years back, and let us use some of their points for the 4 nights. The deal with this club is that they choose amazing locations, and the rooms are usually apartment style with small kitchen units. You still have to pay a maintenance fee and for parking, but with total of around € 320, we couldn't have found a decent place for one night in central Paris. And both my sets of parents and Markus' grandmother chipped in on spending money, so it was all possible. (Thanks everyone!)
We were very happy with our small suite (one bedroom and main eating/living area). And being able to pop down to the bakery and bring back Pain aux Chocolat with fresh juice and coffee in the room was a perfect way to start the day.
And they  weren't kidding about the location. We were able to walk everywhere: Eiffel Tower, Louvre, Champs-Elysees. We took the metro a couple of times only because we had worn out our poor feet from hours and hours of strolling through the city and museums.
We were both pretty tired after the long drive, so after a short stroll around our 'hood, a few pics, and a quick dinner, we went back to the hotel for a relaxing and refreshing sleep.
The next morning our first stop at the local Patisserie was a real conundrum. We just couldn't decide what to order, as it all looked delicious. I had a Pain aux Chocolat every day, and then one other treat to round things out. (Good thing we walked everywhere, as I've already gained weight sitting in bed with my broken elbow.)
Our first trek took us over the Pont-Neuf bridge to the Ile de la Cité, an island of land in the middle of the Seine. (Clearly I was quite taken with this river and the architecture surrounding it, as many of my photos are of this historic waterway.) We walked by the 18th century buildings and made our way to Notre Dame. The legendary church is massive and epic, and the details of the art work are a bit overwhelming. But I don't know if it is just that we have been to so many churches and so many castles in the last 6 months (I know, poor us), but neither of us were moved to spend hours looking around. It is, however, still an impressive memory.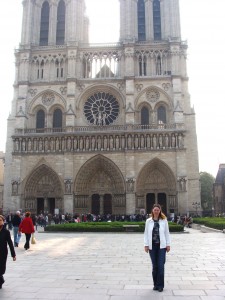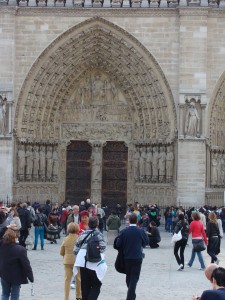 Our plan for our first day in Paris was to visit the Musée d'Orsay. However, the Louvre was closed that day so the line up was ridiculous. As neither Markus or I do long lineups unless absolutely unavoidable, we shifted plans and headed along the river to the Eiffel Tower.
Neither of us really wanted to go up the tower, even before we saw the massive line ups, so that was an easy decision. The park around the towers was beautiful, and we found a little cafe with street side tables for lunch.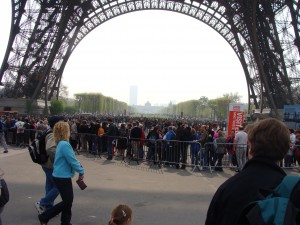 After lunch we decided to hit the Paris Museum of Modern Art. We enjoyed looking at some of the sculptures as well as art deco furniture and glass work, and expressed our opinions about the paintings. Markus and I have similar tastes in historical paintings and sculptures, but different things move us with modern art. Interesting opinions ensue. We saw one artist that really reminded us of our friend Lucie Marlo's work, but unfortunately his/her name escapes me.
One thing I was really struck with throughout our trip was how much green space has been retained in the heart of Paris. Large parks and gardens are impressive, but also areas with just grass and trees are plentiful. It made strolling through the city a real treat.
After a rest/nap, we found a very French bistro with a very French waiter, and quenched our cravings for Steak Frites. That was fine, but it was the appy that really got me. Raw vegetables with a goat cheese fondue that was seriously spectacular, served in a little, scalding hot, cast iron pot. After the veggies were gone I dipped bread, and when I was starting to get worrisomely full, I took my spoon and just ate the melted cheese. YeeeUuuuMmmm!
A memorable first day.
P.S.
Taken strolling along the Seine. Too bad it was too early for a beer.