Only a couple of days, and I already am missing Ryan and Renata like a limb. I can't properly describe how great it was to be able to chat with friends who I have known for so many years (Ren and I met about 20 years ago) and can have easy, free flowing conversations in English. And yet, interestingly, their visit made me feel like Innsbruck was really my home, at least right now. I enjoyed showing them the city and area, and felt proud I could get by in the language, at least in shops and restaurants.
Markus and I are also going to miss the laughs. With all of our incredible life stresses these days, we are experiencing a real dearth of humour here. And Ryan and Ren are just hilarious, with Renata's filterless tales and Ryan's dry, quite comments…or unexpected poses, as seen here. Ah, I'll miss those laughs.
But now that they have returned to Canada, I have a few moments to post about one of our last adventures together, a trip to Trento in Italy. Our original plan was to visit Schloß Tirol again, but it was closed over the holidays. Markus suggested Trento, as we have gone to Sudtirol a few times, which is very much like Austria (having been part of Austria until relatively recently). He thought we would like a taste of a more traditional Italian province and we certainly did.
The architecture of Trento has a very different feel. The area has been inhabited for thousands of years, and many of the buildings were clearly several hundred years old. Here is a shot of the city square, where you can see the buildings with the ubiquitous shutters as well as a part of the old cathedral.
After a tasty pasta lunch and a stroll through the city to get our bearings, we decided to tour the Castellodel Buonconsiglio , which is a 13th Century castle erected next to the city walls. It was an interesting tour including a temporary exhibit of Rembrandt's sketches (not our cup of tea in terms of art, but still an experience to see).
My favourite part was a multiple room exhibit of the maps through the centuries, particularly those related to routes to the Orient. The progress of how civilization viewed the world is fascinating. The exhibit displayed the sailors' tools (compasses, ship logs) as well as a sample of the treasures that were brought back from China.
We also slipped into the wine cellar, and looked at the beautiful barrels among the ancient arches.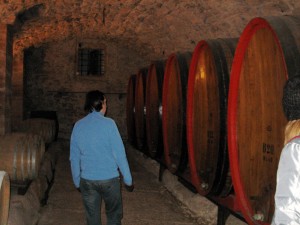 After a quick slice of pizza (tasty, but a bit doughier than anticipated), we made our way home. This sounds easy, doesn't it? Well, we had decided to take the car again, so this was officially my second driving trip in Europe. Unfortunately, the GPS wasn't available, so we were on our own with a map and a prayer. We made it to the city following Markus' directions with only a few missteps, but getting home was another story. The chaotic Italian bureaucracy is legendary, and this was proved in point by the incredibly unclear or simply missing signage for how to get back on the highway. It took us about an hour to find our way out, including several stops at gas stations and stores to ask directions. The worst part was trying to merge onto a 2-lane thoroughfare at night, with the lights coming at me very fast and the cars behind me very impatient. Or maybe the worst was the speedy Italian drivers, who completely ignore the 130 km speed limit, so between the trucks and the sports cars there was at least a 100 km difference in speed which needed to be accounted for when passing another vehicle. Or maybe the worst is that the drivers weave between lanes for no apparent reason. (This was later confirmed by Markus as a common driving practice in that part of the world. Super.) I got a few more grey hairs but we did, finally, arrive home unscathed.
It was a great day overall, and an amazing holiday season. I think that Ryan and Renata were sent away with lots of European stories to tell. Now I just need you (yes you!) to come visit me here so we can have more adventures together.