I had such a great day today. And no, there were no tours through castles, no jaunts off to Paris or London, and not even German class. I had the day completely to myself for 8 blissful hours. Sweet!
And what did I do with this precious time? Crafts of course!! I don't cook, I hate (HATE!) cleaning, and frankly I don't care if the cutlery, flatware and place mats match. But I did discover, somewhat late in adulthood, that I adore being crafty. It is really my only domestic interest and, dare I say, talent. As a child I was always terrified of art class as I couldn't draw my way out of a wet paper bag if I had a gun to my head (serious metaphor mixing but you get my point), so never thought of myself as someone who would be interested in anything remotely artistic.
But then a friend got me onto beading and it snowballed into scrapbooking and now here I am, seriously lucky that craft supplies are not as expensive as heroin, because I am that addicted.
So while Markus helped a friend build a float for a festival in January (don't ask, I don't have any details) and his wife looked after Annie, I made Christmas cards. I hopped on my bike, pieced together enough embellishments (no, I didn't create the penguins myself), cards, stamps and ribbon from three sad little hobby/paper shops here (ever heard of Michales people?!) and got down to work. When I was employed and time was so precious, I remember thinking that I wouldn't ever bother to make cards, as people just throw them away. But now with time on my hands, I'm going for it and am having a great time. Of course, I only made 11 cards in 5 hours, so at my regular rate plus supplies, each card would cost about $25.00, but well worth it for the fun factor.
Here are the results: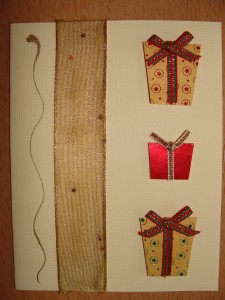 By the end of the afternoon I was going a bit crazy, hand punching little stars onto sparkly paper and pasting them together to have a dimensional effect before gluing to the card. Luckily Rebecca reminded me that I had mentioned I was going to take break three cards ago and I was finally able to pull the plug.
But don't expect some great European adventure next Wednesday when I am off from school; it is going to be all card making, all day. And if you want one of these lovingly created pieces, just send me your address (of the snail mail variety…these ain't e-cards.)